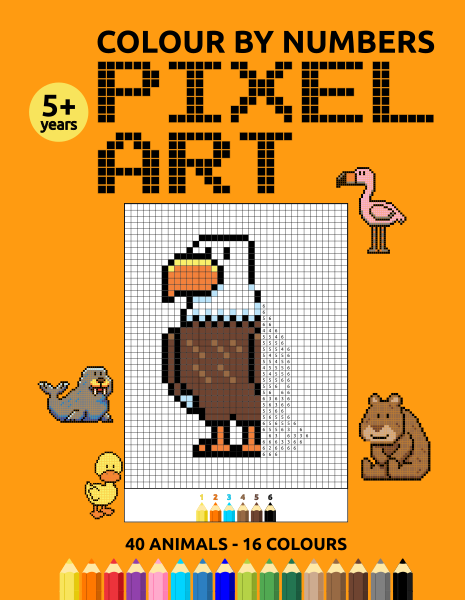 Colour by Numbers PIXEL ART
40 Animals - 16 Colours : From 5+ years old
40 cute animals to discover, one square at a time. The little numbers in the squares make it easy to work out which colour to use
Children love this simple way of colouring and even enjoy trying to guess the design before starting it


40 drawings with increasing difficulty
Notebook in large format 8,5x11 inc
Only 16 coloured pencils (or markers) are needed
Stimulates memory, creativity and concentration through fun
Perfect for pre-school and primary school. Gift for birthdays
HOW MANY COLOURS ARE NEEDED?
With the 16 colours indicated on the cover you can colour any animal. The colours are yellow, orange, red, purple, pink, blue (3 shades), green (3 shades), brown (3 shades), grey and black. These colours are in all common colouring sets
CAN MARKERS BE USED?
Absolutely! We use high quality, thick paper and the back of each page is coloured in in black to prevent smudging. You can also use pastels or gel pens
WHAT DOES PIXEL ART MEAN?
Pixel art is a form of digital art that originated with early computers, in which images are described by means of small coloured squares called pixels. Pixel art designs are similar to small mosaics
More details:
40 colouring projects
22 x 28 cm
ISBN: 9798391054498
Buy on Amazon